Help categories
Featured questions
How can I register a domain?
Register a domain in MrDomain is very easy, you only have to go to the home of our website and follow these steps:
1. Search for the domain
Write the desired domain using the search bar available on our homepage and press the "Search domains" button (if you prefer it, you can directly access our domain search engine):

2. Choose the desired domain
A results page will appear, simply select the domain under the desired extension (.com, .net, .co.uk,..), here you'll be able to see if the domain is registered or remains free.

3. Add the domain into your Shopping Cart
Now, press the "Add to cart" button of the desired domain and it will be added into the Cart. Te following section will appear, permitting you go directly to the shopping cart or continue adding more domains into your cart:

4. Configure the domain in the shopping cart
Go to the shopping cart by clicking the Go to cart button. Inside the cart you will see the domains pending to be configured, click the Configure button to start the process.

4.1. Configure the domain contact data
The first step is configure the Domain Owner data to define who is the domain owner at all effects. If you're registering the domain for a third person use the truly owner data to fill the "Domain Owner.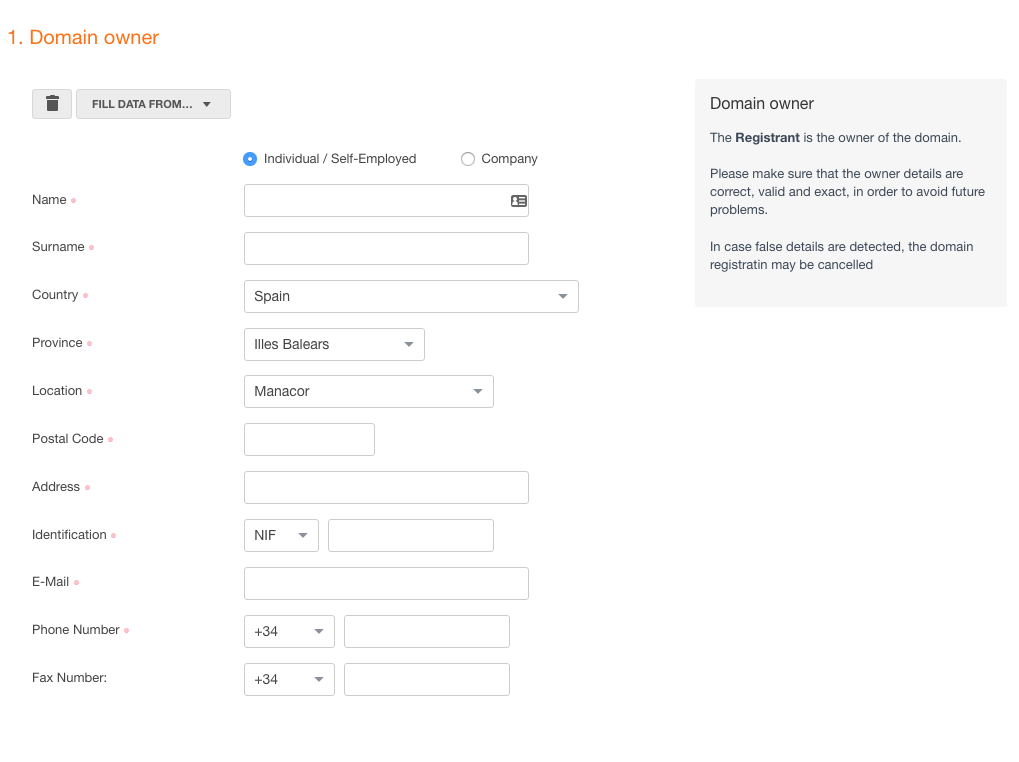 After that you will have to configure the other domain contacts. The system will use the same as owners by default.

If you want to use another data uncheck the Use the above filled owner details.
4.2. Select the Hosting
Now you can choose the hosting that you want to use.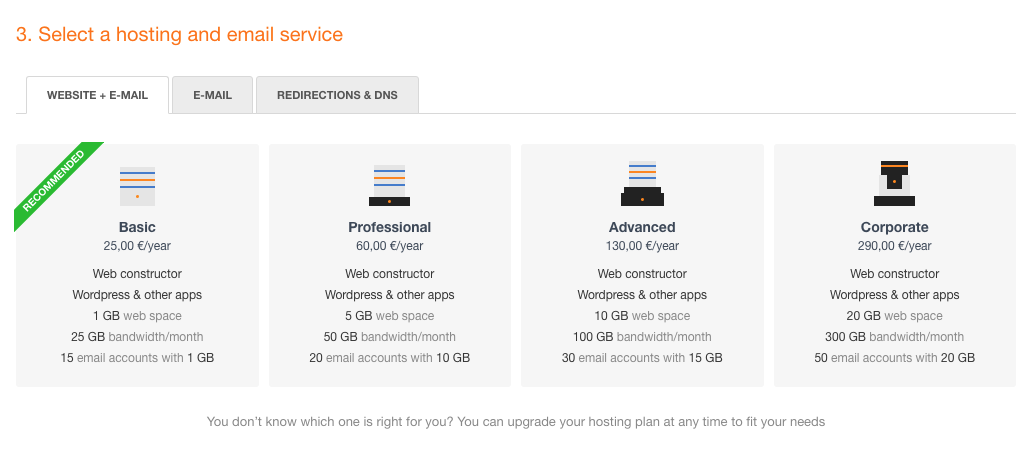 If you don't want a hosting and only want configure a redirect or external DNS click on the Redirections & DNS.
4.3. Apply this configuration…
That option allow you to apply the same configuration to the others unconfigured domains in cart or to all domains in cart.

5. Confirm the configuration and accept the terms and conditions
Now you just have to read and accept the General Terms and Conditions and the Privacy policy.
Finally click on the Pay purchase button to access to the payment options.

6. Make the payment
In this step you will see the purchase resume and the invoice data, if it's all okay click the payment method that you want to use. The available payment methods are:

Credit Card: you will be able to do the payment using a Visa, MasterCard, Maestro or Euro6000 credit and debit card.

PayPal: clicking it you will be redirected to the PayPal login panel to do the payment.

Account balance: that option will debit the amount from your MrDomain account balance, it's mandatory have enough balance to complete the purchase.
The <strong<"Account balance** may be added from your customer area going to Billing and clicking the Add account balance option.