Professional email accounts
The easiest and most economic way to have personal email accounts under your own domain name
Mini
Try our email services and upgrade at any moment
5 email accounts with 100 MB
Email 5 alias
Mail
Ideal for frequently used personal email accounts
10 email accounts with 3 GB
Email 50 alias
Mail Plus
Specific for the most demanding email accounts
15 email accounts with 10 GB
Email 100 alias
Mail Pro
Tailored for corporate and professional email accounts
25 email accounts with 15 GB
Email 150 alias
Tools for your emails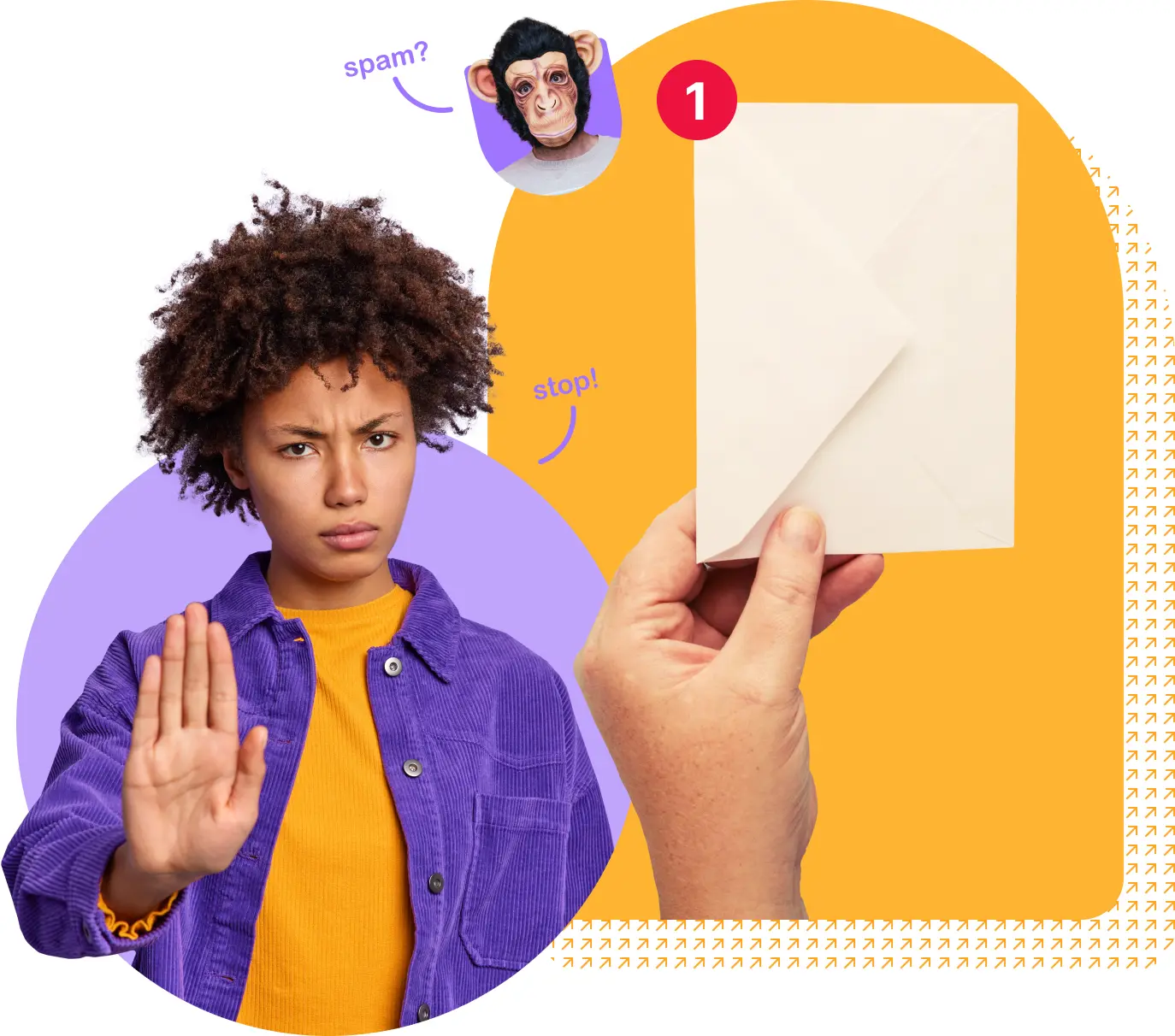 Profesional and personal email
Take care of your online image with personal email accounts like @yourname.com that will allow you to easily be recognized and show a professional image
Webmail access
You can read and send emails from our Webmail app, accessible with any web browser with Internet connection, including your smartphone.
More information about Webmail
Anti spam and antivirus filter
Our mail servers have an anti spam filter and antivirus that scans your emails for dangerous attachments. All this completely anonymous and respecting your privacy.
Detailed features
Price/year
Feature Summary
Email Accounts
5
10
15
25
Space per email account
100 MB
3 GB
10 GB
15 GB
Web space
100 MB
100 MB
100 MB
100 MB
Monthly traffic
Email
Email Accounts
5
10
15
25
Space per email account
100 MB
3 GB
10 GB
15 GB
5
50
100
150
Automatic responses
FTP & Disk Storage
Web space
100 MB
100 MB
100 MB
100 MB
5
5
5
5
WebFTP
5
5
5
5
Daily
Daily
Daily
Daily
Bandwidth statistics
Other features
Warranty & Support
Availability guarantee
30 day refund guarantee
Subject to reasonable use policy - More information
Servers managed by our system administrators
Our team of system administrators is responsible for monitoring and updating the servers located in Spain so that your web and mail accounts are always available. Forget the technical details and focus on your project
24/7 Monitoring
We have professionals who are responsible for monitoring all web, database and mail servers 24 hours a day, 7 days a week to prevent any incidents and ensure the availability of your hosting service, one thing less to worry about.
Data Protection & daily backups
All our hard drives are mirrored. In case of a physical problem in one of the your website will continue working normally. We also make daily and weekly backups on external servers. Thanks to this we can recover your information in case you commit any data loss error.
Why you should buy our hosting plans
Refund Guarantee
Try your new hosting plan for 30 days and if it doesn't convince you, you'll get the full refund, no questions
Top level support
Our team is always aiming to achieve the level of professionalism that we are known for
Proprietary technology
Our customer area is developed in-house so it can be adapted to your needs
Ready? Start using your new email today
Choose an email plan that fits your needs and start your project in just a few clicks
Choose an email plan
Frequent Questions
Can't find the answer you were looking for? Our support team will be happy to help you answer your questions before you take your first step into the digital world.
Contact online support
What do I need to create personalized email accounts?

To create an email account, you'll need to register a domain name and associate an email or hosting plan to it.
Can I import mails from another provider?
Can I increase the capacity or the number of accounts of an e-mail plan?

To increase the number of accounts and/or the capacity you would have to upgrade to a higher email or hosting plan, it is not possible to modify the features of the plans directly.
Does exist some limitation for massive mailing?

Yes, the massive mailing is limited. You can ask for more information contacting with our customer team.
Will I be able to configure my email account in an e-mail client such as Outlook, Thunderbird, Apple Mail...?

Yes, you'll be able to use IMAP/POP and STMP protocols to configure your e-mail account in any e-mail client.
Will I be able to consult my mails from smartphone?

Yes, you'll be able to configure your mail as POP/IMAP in your smartphone or access directly from Webmail, an online e-mail client.
What is the 30 days trial period?

During the 30 first days after hiring a email plan, you can request cancellation and refund without any commitment.