Solutions for private individuals
If you are not clear about how domain registration works, here you will find answers to your questions, together with a guide in which we recommend which products to acquire depending on what you want to do.
Is it your first domain?
You are on the first step of creating your digital life. What better way to do so than with a domain with which to identify you on the Net? It can be your name and surname or perhaps a hobby, pseudonym or any word or collection thereof that occur to you and of course that you like.
Domain names
A domain consists of name + extension. There are generic extensions such as .com, .net or .info and territorial ones such as .es for Spain or .de for Germany.
Depending on the use you are going to make of your website, it is advisable to use one extension or the other. For example, if it is a blog and you live in Spain perhaps you would prefer a .es extension as it associates your website with your country.
Space in which to host your website
A domain does not work alone, in other words, by accessing it with your browser you will simply be told that the website "does not exist". It gives you exclusive use of that name, but not to upload a website or have email accounts.
In order to have these functionalities available you must contract a web hosting plan associated with your new domain. By so doing you will have a server which will be from where your website and email can be seen.
Annual payments
The cost of a domain is always annual, you must renew it on a yearly basis in order to continue owning it and continue making use of it. In the event of failing to renew it, after a grace period, the domain will once again become available for its registration by anyone else.
More information about domains
More information about our hosting services
Would you like to share your photos?
Share your photos with your family and friends through your domain. You will be creating a simple and easy to use direct access to your pics.
Using your hosting plan, you can configure a personalised photo gallery with our Application installer or you can redirect your domain to your profile on Flickr or Picasa.
To install a photo gallery (Coppermine, Gallery, etc) you will need:
For Flickr or Picasa we recommend:
Feed the world with your blog
Use your domain to publish your concerns, hobbies or whatever you want on your own blog. Using our basic hosting system (or above) you can use the Application installer to configure a system of blogs such as for example, WordPress, with the ability to personalise it with thousands of designs and plugins available on the net.
If you already have a blog with an external service such as for example Blogger or Blogspot you will be able to link your domain with these without needing a hosting plan, although in this case your blog will be less customisable.
To install Wordpress you will need:
Your personal website
Once you have a hosting plan you can create your own website using our free Web Constructor or any of the applications designed for this (Dreamweaver, FrontPage, etc.). An example would be to create a website with information about you and include your CV. What better presentation than your CV accessible from any part of the world?
You can begin with:
To use the Web Constructor you'll need a Basic hosting plan.
Your personalised Email address
Once you have your own domain you will be able to have personalised email accounts. Unlike free services like Hotmail or Gmail you will not receive advertising and you will decide the email accounts to be created under the domain, which can be created with any name (eg: info@yourdomain.es, jose@perez.es).
You will be able to access your email from our Webmail application, accessible from any browser with Internet connection, as well as with desktop mail programmes such as for example: Outlook, Mozilla Thunderbird or Evolution.
In the event of having a Smartphone such as iPhone, Android or BlackBerry you can also manage your email directly from it.
We recommend:
Domain + Mini hosting plan
Domain + Plan de Alojamiento Mail
Functionalities conceived for you
Characteristics that will make your life easier
Unbeatable prices
Unlike our competitors, our prices are not dictated by who you are or where you come from. We don't want you to pay excessive prices to have a service that, we believe, should be within reach of everyone. Our slogan: low cost domains, just how you like them.
Peace of mind when paying for your purchase
Apart from these forms of payment, you can also purchase using PayPal, credit or debit card, bank transfer or direct debit, always in a completely secure manner. All communications are encrypted via SSL.
Privacy of data
Our free Whois Privacy service will enable you to hide your public details, which can be seen when a Whois consultation is made for the domain you have registered.
By activating Whois Privacy, your name, Email address and postal address will remain hidden and our details will be shown instead, thereby protecting your identity.
Earn points for your purchases
When registering, transferring or renewing domains or hosting plans you will accumulate loyalty points that we call Dominitis in your client account. These can be redeemed for new hosting plans and domains, free of charge.
Ease of use
Our application is designed for all publics. We take usability very seriously. Without complications, registering a domain has never been so easy.
30 day guarantee
Contract a hosting plan with your domain and try it without obligation. You have up to 30 days to decide whether you are sure about the service or not. And believe us, you will be sure, but if it wasn't what you were looking for, we will refund the costs of the hosting plan contracted.
Web Constructor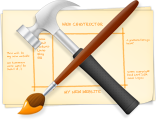 With Web Constructor you'll be able to create your personal website choosing between more than 500 different themed templates you can personalise at your own look&feel, creating a unique website. You can do it using our assistant in five easy steps. More information
Application installer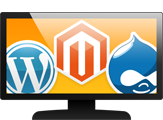 With our automatic applications installer, we have created for you a very quick and easy way of configuring your bespoke website. You can choose between blog systems, photo galleries, online shops, content managers and many more applications. More information