Solutions for Professionals and SME's
We want to be the partner you seek for your presence on the Internet and for our products and services to help the success of your online business. Here we present a summary of the principal functionalities we offer you.
Your business's website
We understand how important it is to have a website for your business or project that is accessible on the part of your clients at any time and from any location in the World. Having your business online will enable you to achieve new sales and commercial agreements without physically needing to be in situ.
Our hosting servers have the latest technology on the market, which will enable you to continue thinking about your business and not have to worry about the status of your website on the Net as it will be operational at all times.
You can begin with:
Emails for your business
Do you use emails from free services such as @hotmail.com? Looking after the image of your business is extremely important not just on the internet itself but also with your clients and suppliers. Using email accounts under your own domain (salesexecutive@mydomain.es) will not only allow you to be easily recognised, but will also enable you to make your website more visible, as the email account will always display the name of the domain you have contracted.
You will be able to access your email from our Webmail application, accessible from any browser with Internet connection, as well as with desktop mail programs such as for example: Outlook, Mozilla Thunderbird or Evolution.
In the event of having a Smartphone such as iPhone, Android or BlackBerry you can also manage your email directly from it.
We recommend:
Content Management Systems
Updating the content of a website has never been easier, as you can use content managers or free CMS (Content Management System) such as for example WordPress, Joomla or Drupal. Once you have installed the manager on your hosting plan you will be able to easily manage your website from the administration panel included therein.
The installation of this type of manager is very simple from our Application installer. You should simply access your hosting panel, select an application from the list and follow the steps we indicate to complete the configuration.
For Content Management Systems you will need:
Create your online shop
As is the case with content managers, there are also open source solutions for the management of electronic commerce shops.
With the Application installer you will be able to install the majority of solutions on the market, such as for example OsCommerce, PrestaShop or Magento, amongst others. Within a few minutes you will have your shop on the Net.
In addition, the Basic, Professional and Advanced Hosting plans support secure servers (SSL) so that your clients' most sensitive data can be sent encrypted.
To host your shop you will need:
Redirection to another website
If you already have a principal domain from which you carry out your business activity, you can use new domains with which to attract more visitors and redirect to your website at no cost whatsoever.
We recommend you register your domain with the most important extensions or in the countries in which you undertake your activity, by so doing not only will you avoid a third party having the domain, but you will also be reinforcing your brand on the Net.
Functionalities conceived for you
Characteristics that will make your life easier
Monthly unified billing
For each purchase you make an invoice will be automatically generated with your client details. In the event that you register or renew domains assiduously, you will be interested in our monthly billing solution.
In the event of activating this functionality, receipts will be generated for every purchase and every first of the month one sole invoice will be generated for the totality of purchases made during the previous month. The convenience of having one sole invoice will avoid distracting you from what is truly important, your business, and will simplify the accounting of same.
In the event of being interested in monthly billing, contact us using a support ticket and we will be delighted to attend to you.
Total control of your domains
Transparency. A word that defines us.
Unlike our competitors we are never going to oppose you leaving. You have unrestricted access to all your domains and all the data in relation to thems. You can check the Authcode (security password) at any time and in real time (we are not going to make you wait days for it).
What's more, if you have problems in transferring from another registrar, we would be delighted to help you.
You can change the contacts associated with your domains without waiting. And of course, you are the owner of your domains, which you manage through us.
24/7 Technical support
Communication with clients and suppliers must be as quick and as fluid as possible. Internet and email have revolutionised this aspect.
We know how important it is for you to always be online and have a response to an enquiry or problem in as short a time as possible, this is why we provide you with technical support 24 hours a day, 7 days a week.
Simply put, we are here.
Automatic renewals
Domains must be renewed annually, failing to do so means losing them. Losing a domain for your business may represent big unrecoverable financial losses and the loss of confidence on the part of your clients.
Our system permits the activation of automatic renewals, in such a way that when the time comes to renew our system will take charge of doing so for you, wherever you are. In addition, in the event that it cannot be done, you will always receive immediate notifications.
Protect your brand
We manage over 40 different extensions (TLDs), with them you will be able to protect and reinforce your brand on the Net.
We recommend using the territorial extensions (.es, .de, .fr, .it, ...) to address each of these markets, not only will you gain the confidence and trust of your clients, but you will also facilitate them finding you by searching in their language.
Records for your account
Security was never going to be any less important, this is why all the actions you take in your client area will remain recorded and you will be able to consult them at all times.
All and any communication with us is encrypted via secure connection in such a way that a third party could never have access to your domains most sensitive data.
Web Constructor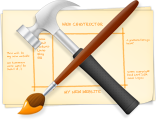 With Web Constructor you'll be able to create your personal website choosing between more than 500 different themed templates you can personalise at your own look&feel, creating a unique website. You can do it using our assistant in five easy steps. More information
Application installer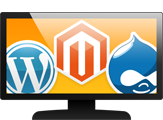 With our automatic applications installer, we have created for you a very quick and easy way of configuring your bespoke website. You can choose between blog systems, photo galleries, online shops, content managers and many more applications. More information