How to activate autorenewal?
Autorenewal permits you to have your domains or services always renewed.
Autorenewals work using the account balance of your user account. When renewing, the system checks your actual balance, if it's not enough you'll be notified by mail about it. At the moment you have enough the system will renew it automatically.
In case a renewal is done you'll also receive a notification with the invoice in your e-mail account.
To activate the autorenewal you have to go to My domains in your client area and clic on the button in the Renewal column to activate or deactivate the autorenewal.
Another option is go to the "Domain Management" tab of your domain and at the "Renewal" part you'll find the "Renewal method" option: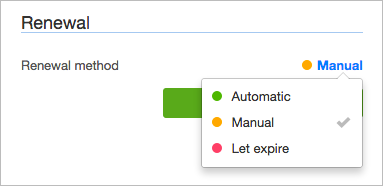 Do you need help?
Our support team will be happy to help you with any questions you may have before you take your first step into the digital world.
Where to start?
The first step for your new project is to search for an available domain.
Search domains