Mini Hosting Service
The most economic email plan
For only 1 Euro a Year, with the Mini Hosting service you can upload your website on the Internet and have multiple e-mail accounts. Does anybody offer more for less?
E-Mail
5 Email accounts
100 MB Space per account
5 E-mail aliases
Included in our email plans
Antispam & antivirus
Forget about junk mail and take your time to read the emails that really matter.
Webmail
Access all your email accounts from anywhere with a preinstalled web app.
Web space
Take advantage of your domain with web space to publish static html files.
Refund Guarantee
Try your email for 30 days and if it doesn't convince you we refund you the money.
Customized email
Take care of your online image with custom email accounts like @yourname.com that will allow you to be easily recognized and give a more professional image.
Configure your email accounts and use them in your smartphone, tablet or any email client software like Outlook, Mozilla Thunderbird, Evolution or Mail.
Webmail Access
You can read and send emails from our Webmail app, accessible with any web browser with Internet connection, including your smartphone.
More information →
http://webmail.yourname.com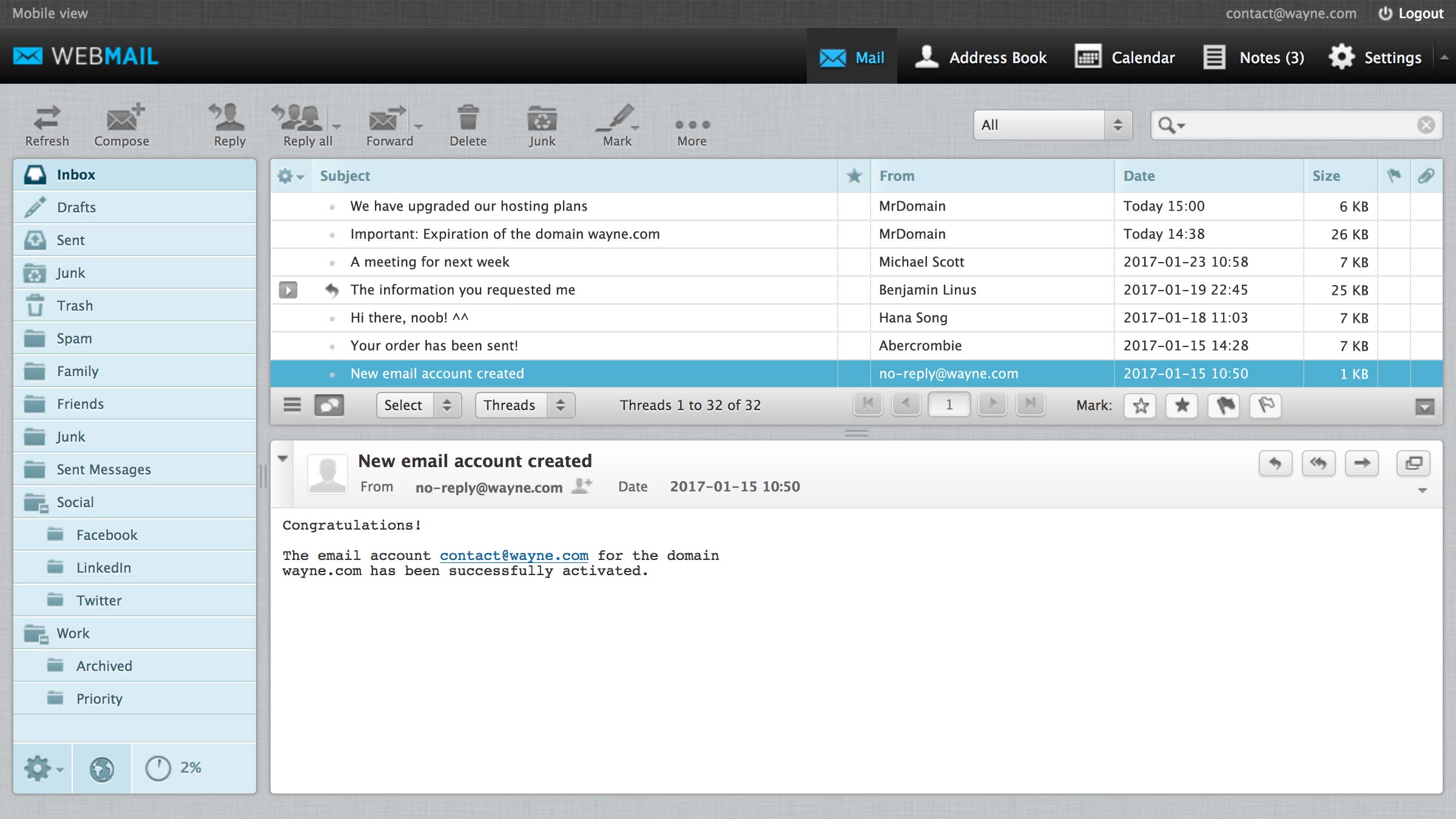 Receive only the important
Our mail servers have an anti spam filter and antivirus that scans your emails for dangerous attachments. All this completely anonymous and respecting your privacy.
Web space for static files
Since you are going to register a domain name to customize your email accounts, why not get more out of it? With your email plan you will have 100MB of space to publish static html files.
You can customize a parking page with your logo and contact details, or redirect your visitors to a Facebook, Instagram or Linking page, for example.
Do you want your own website?
Purchase one of our web + email plans and you'll be able to create your own website with our assistant or install more advanced apps like WordPress, Prestashop or Magento starting at only 25€.
View website + email plans →
Servers managed by our system administrators
Our team of system administrators is responsible for monitoring and updating the servers so that your web and mail accounts are always available. Forget the technical details and focus on your project.
24/7 Monitoring
We have professionals who are responsible for monitoring all web, database and mail servers 24 hours a day, 7 days a week to prevent any incidents and ensure the availability of your hosting service, one thing less to worry about.
Data Protection & daily backups
All our hard drives are mirrored. In case of a physical problem in one of the your website will continue working normally. We also make daily and weekly backups on external servers. Thanks to this we can recover your information in case you commit any data loss error.
Detailed features
Mini
Mail
Mail Plus
Mail Pro
Annual price
1€
10€
20€
50€
Feature Summary
Email Accounts
5
10
15
25
Space per email account
100 MB
3 GB
10 GB
15 GB
Web space
100 MB
100 MB
100 MB
100 MB
Monthly traffic
10 GB
0,50 € additional GB
10 GB
0,50 € additional GB
10 GB
0,50 € additional GB
10 GB
0,50 € additional GB
Webmail Access
Email
Email Accounts
5
10
15
25
Space per email account
100 MB
3
10
15
E-mail aliases
5
50
100
150
Webmail Access
Automatic responses
POP3/IMAP4 server
Antispam & antivirus
FTP & Disk Storage
Web space
100 MB
100 MB
100 MB
100 MB
FTP Access
FTP Accounts
5
5
5
5
WebFTP
Subdomains
5
5
5
5
Redirections
Customizable parking page
Per user FTP quota management
Backups
Supports SSL certificates
Visitor statistics (Webalizer)
Bandwidth statistics
Other features
DNS Zone Management
Anycast DNS
Management panel for external users
Warranty & Support
Availability guarantee
30 day refund guarantee
View plan
View plan
View plan
View plan